Our Museum isn't only weird…
it's haunted.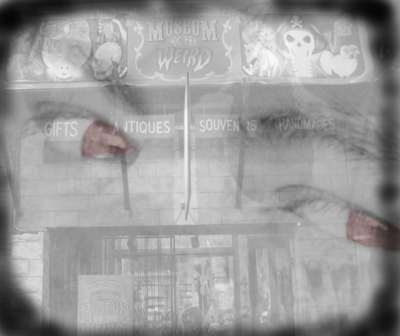 If you've been to the Museum of the Weird, you've seen the real
human skeleton that is on exhibit.  Ever since this item arrived
at the Museum, strange things have happened.  We believe that
something entered our store with this skeleton.  No one has been
harmed and the spirit has done nothing to indicate that it is unhappy,
but it demands attention.  So, we're going to give the lady what
she wants and have special gatherings in her honor.  Doc
Ravencraft, our own Texas Mojo Man, will be conducting séance sessions
in our new upstairs show room at the museum and we've decided to make
them available to
you!
Over Halloween Weekend we will be scheduling sessions at 7:00 PM and
9:00 PM.  Seating will be limited to 10 people per session and
must be purchased in advance here.
For more information, send email to steve@museumoftheweird.com